School starts, and that's the fun taken care of. But with us, you can easily arrange everything you need to get back to school while the kids are having fun at the cinema or at workshops.
Short Film Festival for Children
From 27 August to 5 September we will be hosting a Short Film Festival for Children. Each day we will be showing a full day's loop of films in two cinemas, so you can come to the hall at any time. The cinema is free to all and parental supervision is required.
And what films are your little ones looking forward to?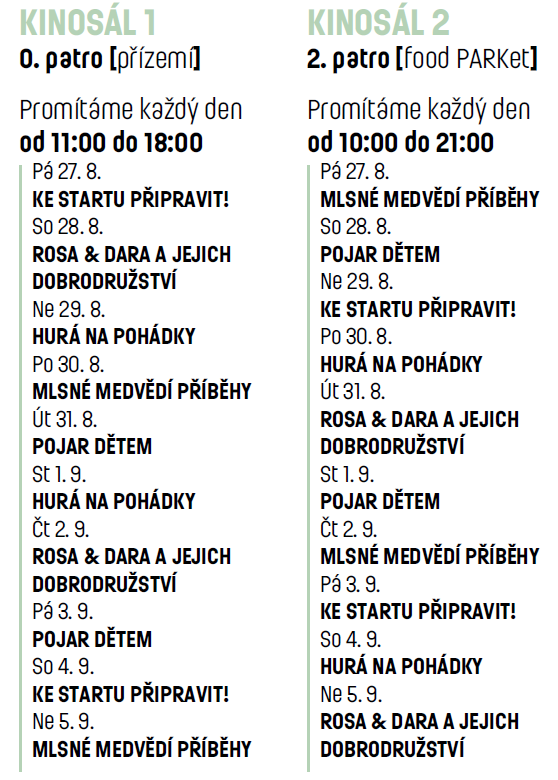 Animation workshop Flight through the animation world
In addition to the screening, we have prepared film workshops for you and your little ones called A Flight Through the Animation World. These will take place on the weekends of 28-29 August and 4-5 September from 11:00-16:00 in the back of the food court on the 2nd floor of PARKet.
There will be animators to guide the children through the workshops – so you can do all your pre-school shopping in the meantime. The workshops are designed as a "walk-through" workshop, so you can join in the making at any time for any length of time – whether you have just a few minutes or a whole afternoon.
Workshops are free and suitable for all children aged 5 and over and adults. You will be able to conveniently download the films afterwards.
You can look forward to 2 different workshops:
Lunapark of film inventions
Are you familiar with the praxinoscope, zoetrope or the magic lantern? You will not only get to know these magical animation devices, but also try them out. You will be able to create your own animation strip, which is then inserted into the device and triggered to create the "illusion of animation".
Animation School
Children will learn the basics of cartoon and stop-motion animation or pixilation, which will excite all energetic children. In cartoon animation, children invent a simple movement which they draw on individual pieces of paper and the resulting stack of papers is digitally combined into a film at the end. Stop-motion is also suitable for children who don't normally enjoy art – they can try animating different materials and using the camera to make them move. Pixilation will be a fun way for energetic children to become animation objects themselves.
We look forward to your visit!